"Wissenschaftler in Dresden stellten fest: Der Smeller ist sogar geeignet, Depressionen zu lindern. Das Osmodrama ist noch nicht vorbei. Ich beginne zu träumen. Plötzlich reißt mich eine Abfolge hoch: Kopierer, Kabelbrand, Kurzschluss. […] Wenig später, ich traue meinen Sinnen kaum: der Geruch des Wäscheschranks meiner Großmutter. Kein Zweifel! Das ist mein Höhepunkt des Dramas – und ein Augenblick des Glücks. Ich muss mir das unbedingt noch mal anriechen."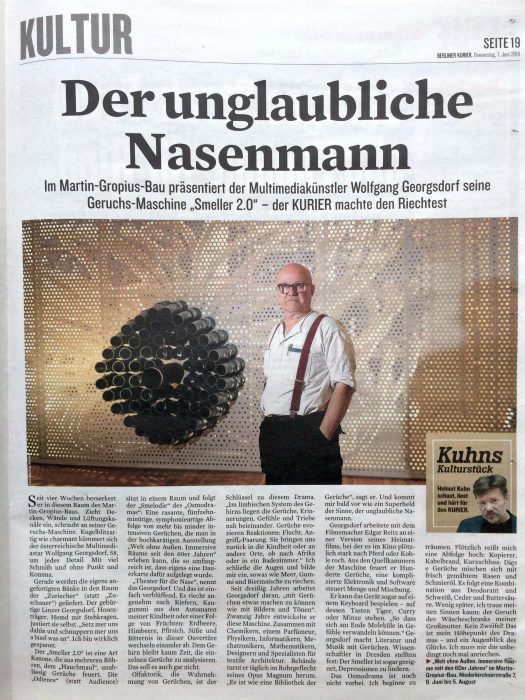 Berliner Kurier, Artikel vom 07.06.2018 von Helmut Kuhn
Der Artikel als pdf.
"Scientists in Dresden discovered that the Smeller is even suitable to relieve depression. The Osmodrama is not over yet. I start to dream. Suddenly a sequence tears me up: copier, cable fire, short circuit. […] A little later, I hardly believe my senses: the smell of my grandmother's linen closet. No doubt! This is my highlight of the drama – and a moment of happiness. I definitely have to go and smell that again."
Berliner Kurier, Article of 07.06.2018 by Helmut Kuhn
The article as pdf.